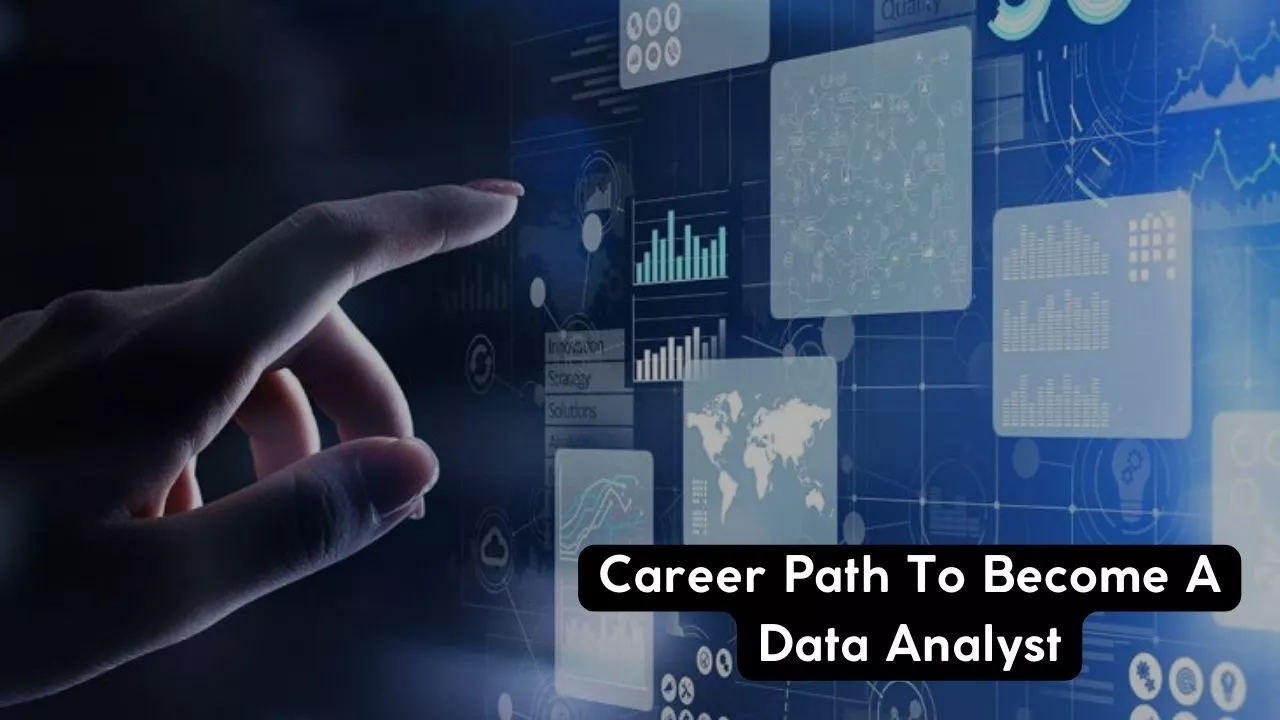 Choosing a career might be difficult for everyone. Knowing about the right demand and the right strategy and getting the bigger picture about the career is more important than just jumping into learning. In this article, we will be covering the right strategy to make a career as a Data Analyst. 
The career that boosts your future growth and helps you to achieve better opportunities. Data analysis is the inspecting and transforming of the data in a simple and easy-to-understand manner.
In today's world, there are a lot of resources available all around, but the top courses and resources that boost your career path provide an edge to data analysts. There are a lot of data analyst courses in Pune, Delhi, and other metropolitan cities to start the career or you can start your learning online as well. 
Apart from learning, the right strategy and determination help you to get the best career in data analysis. By the end of this article, you will be able to find the right path to crack a good job as a Data Analyst and you have the right idea to achieve it.
DATA ANALYSIS AS A CAREER OPTION
If you are thinking of making a career in data analytics, you will know about these things as well. In today's scenario, the demand for data Analysts is increasing day by day. According to career researchers, the average salary for data Analysts will be approximately between INR 12-14 lacs. 
Also, the job of data Analysts is about to increase by 11.8 million worldwide by the year 2026. So choosing data analytics as a career option will be the best decision for you to grab the best opportunities in the future.
WHAT IS DATA ANALYSIS?
Data Analysis has become a more significant term nowadays. Due to the high demand flow of data transfers daily, along with the need to manage these demands and carry out the scientific method, the company must manage it. This is the reason the data Analyst's job and demands are very popularised in the 21st century.
Data Analysis as the word suggests data means useful information and Analysis related to scientifically managing user information and inspecting the information in a step-to-step format. Data Analysis is the study of huge amounts of data, which is present in structured, unstructured, and semi-structured formats to make them processed into scientific methods by using different technologies and algorithms like Tableau, Power BI, etc.
HOW TO BECOME A DATA ANALYST?
 Any Graduate can become a data Analyst without any technical knowledge, but you have a passion to learn new things and explore more about data Analysis. The determination of learning and consistency help you to get the best job as a Data Analyst.
The steps you should follow to become a data Analyst.
 Join either an online course or you can join a data analyst course in Pune, Delhi, and other cities which will be near your location.

Choose the programming language that covers statistics and other machine learning concepts.

To get top jobs as a Data Analyst you can also Post-Graduation degree or certificate courses with all relevant skills that help you boost your career.

Prepare your skillset and make a professional resume with a minimum of 1-2 projects related to data Analysis.

Apply for an internship, so you get enough experience in data analysis.

Apply for a job and prepare for an interview.

Grab your dream job as a data analyst.
REQUIRED SKILLS AND ELIGIBILITY FOR DATA ANALYST
To succeed in a Data Analyst position, you will need several technical skills, including skills in SQL, various programming languages, and data visualization software. Here are the top skills required to become set your career in data analysis:
Technical skills required for Data Analysts:
SQL: SQL stands for structured query language. It is the language designed to collect and structure the data.
Statistical Programming: The language like R or Python is built for data analysis and data mining for companies. The programming language with built logical skills as well as the regression analysis.
Data Visualization: Visualization tools help the data in the analysis made like in the graph, or chart format. It helps in easy to understand the data in a sophisticated visual manner. For the visual representation, there are multiple programs like Tableau, PowerBI, Bokeh, Infogram, and Plotly.
Soft skills required for Data Analysts:
Logical thinking build-up: it will help to collect the data logically and makes the output simple and easy-to-access manner.
Communication skills: to become a data analyst you have good communication skills that are easy to coordinate with the team members and easy to understand the structure.
Creative and analytical skills: these skills help in handling the company's data and understanding the objective of data in a creative manner.
HOW TO APPROACH MID-LEVEL TO SENIOR LEVEL
 One step to progress in a data analysis career is to get more experience and get a more senior position. There are multiple opportunities in different sectors for a data analyst, but every company has a basic requirement such as,
Candidates should have a minimum of two years of experience as a data analyst.

You should have deep knowledge related to the data analysis field.

You should have good communication skills with logical and good analytical thinking so you can easily crack the interview.

You have good management skills, and a good way to convey your message to your team, propounded by good soft skills.
FROM DATA ANALYST TO DATA SCIENTIST 
It is not a linear progression from data analyst to data scientist where you start as an analyst and work your way up. Climbing up the success ladder as a data scientist requires following a series of practical steps and using resources.
A successful career transition from data analyst to data scientist should be accompanied by a well-crafted transition plan. Do your homework on what the data scientist job role entails and then self-assess your current analytical skills.
CAREER AS A DATA ANALYST CONSULTANT 
The majority of data analysts in the industry will eventually become data analytics consultants after spending at least six or seven years in the industry. Data analytics consultants perform essentially the same work as data analysts, but they work for more than one client instead of one company. Some choose to work for consulting firms, while others choose to be self-employed.
If you're wondering whether your data analyst career path might eventually lead to a more flexible career, the answer is yes! A realistic consideration of this would be a lot later in your career; in the first few years of your career, it's important to gain as much experience as possible and to develop your skills in a range of different positions. This will allow you to work with a variety of clients in different situations.
THE RIGHT STRATEGY TO BUILD A GROWING CAREER AS A DATA ANALYST
First, you should learn the basics of data analysis and prepare your skillset to crack an interview.
Take actively participate in data analytics events and be ready to update yourself in the data analytics technology field.

Apply for an internship, working on live projects will help you to get more good opportunities.

Crack the good company interview and apply for new opportunities and don't stop yourself to learn more.

 Make your resume ready for a job and your right interview preparation to crack every good opportunity in data analytics.

 Get a minimum two-year of experience to learn more and explore more about data analytics to get the senior position.
And after all these steps, you are ready to become a good data analyst.
BEST DATA ANALYST COURSE 
First, you should know one thing, everything becomes best if you consistently focused on the objective and why you want to start. after this, you will get good learning with top jobs in data analysis. There are a lot of courses in data analysis in the market.
The things you should know before purchasing the data analyst course:
Check the course ranking and rating.

Check the course authenticity of the ed-platform.

It's good if the course provides a placement guarantee that boosts your confidence while learning.

Check the fee structure and course duration and compare them to other courses, so you can plan according to your needs.

After selecting 3-4 courses, you can check if the course contains the topics like machine learning, one programming language, deep learning concept, statistics, linear algebra, data visualization, and data mining.

Along with the courses, if the course contains practical knowledge or projects that will be a plus for you to purchase.

If the course will provide an internship and job guarantee & the previous parameter is fulfilled you can buy that course.
If you didn't find the best course, we will help you by suggesting the top courses you must check. You can check the data analyst course in Pune, where you can find not only the best courses but also top companies that hire data analysts. You can also learn from youtube, google free courses if you are financially not capable to buy the course.
HOW MUCH TIME TO BECOME A DATA ANALYST?
To become a data analyst, you have to give approximately 6 to 12 months for an average student who has no technical background or those who are doing other stuff with data analyst courses like jobs, students, etc.
Many students even finish the course before 6 months and get a good job during the learning period. It's up to the students how they focused on the course and how he/she consistently follow the course.
Any graduate or any student can become a data analyst without a technical background. But you have the determination to study and the confidence to crack the job of a data analyst.
TYPES OF DATA ANALYST JOB
.
To choose a career in data analysis, you will get multiple opportunities related to the same domain. The data analyst has a wide career option that excites you for sure, you will get multiple options to do. The main job roles are given below with simple explanations:
Data Analyst:

 In the data analyst job, an individual has to perform data mining of huge amounts of data, models, patterns, relationships, trends, and much more.

Data Architect

: in this job, you have to work on the company's data sources and mapping data management systems.

Machine Learning Engineer: in this learning about machine learning based on artificial intelligence and self-operating and predictive analytics.

Statistician:

 in this job, research the methods to obtain data and model it to provide insight for the company.
There are other options as well like data scientist, data engineer, data modeler, database administrator, computer systems analyst, business intelligence analyst, and so on.
 FUTURE SCOPE OF DATA ANALYSIS:
 In today's scenario, the demand for data Analysts is becoming more day by day. According to career researchers, the average salary for data Analysts s will be approximately between INR 12-14lacs. 
Also, the job of data Analysts s is about to increase by 11.8 million worldwide by the year 2026. Data analysts' demands are high across industries worldwide. You can specialize your career in data analysis such as,
Financial analyst

Social data analyst

Insurance underwriting analyst

Digital marketing analyst

System Analyst

Operational analyst

Healthcare analyst
And much more, opportunities will available in data analytics.
CONCLUSION 
This article provides the niche of data analytics and it helps in understanding the basic requirement to become data analytics. And how to make your career solid and stable in data analysis. The right approach to dealing with it helps you to get your first step in an easy way and timely manner. Boosting your skills is the only way to get a good career opportunity in the data analyst field. Make your career ready to fly and enjoy the journey.